Hundreds protest censorship of Chinese newspaper
Scholars and protesters demand reforms after China's leadership censored an editorial from one of the nation's most daring newspapers.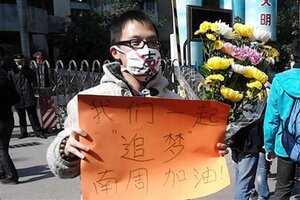 Wu Wei / AP Photo
A dispute over censorship at a Chinese newspaper known for edgy reporting evolved Monday into a political challenge for China's new leadership as prominent scholars demanded a censor's dismissal and hundreds of protesters called for democratic reforms.
The scholars and protesters were acting in support of the Southern Weekly in its confrontation with a top censor after the publication was forced to change a New Year's editorial calling for political reform into a tribute praising the ruling Communist Party. Rumors circulated that at least one of the newspaper's news departments was going on strike, but they could not be immediately confirmed.
Protesters, including middle school students and white-collar workers, gathered outside the offices of the newspaper in the southern city of Guangzhou to lay flowers at the gate, hold signs and shout slogans calling for freedom of speech, political reform, constitutional governance and democracy.
"I feel that the ordinary people must awaken," said one of the protesters, Yuan Fengchu, who was reached by phone. "The people are starting to realize that their rights have been taken away by the Communist Party and they are feeling that they are being constantly oppressed."
Political expression in the public sphere is often viewed as risky in China, where the authoritarian government frequently harasses and even jails dissidents for pro-democracy calls.
Another protester, Guangzhou writer and activist Wu Wei, who goes by the pen name Ye Du, said the protest marked a rare instance in which people were making overt calls for political freedom since large-scale pro-democracy demonstrations were crushed in a military crackdown in Beijing's Tiananmen Square in 1989.
---