IMF arrives in Egypt in effort to head off currency crisis
Leading bank HSBC said that a $4.8 billion International Monetary Fund loan is 'the only thing' preventing Egypt from a currency crisis brought on by post-revolution political upheaval.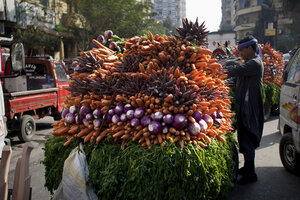 Nasser Nasser/AP
A senior IMF official met Egypt's government on Monday to discuss a vital $4.8 billion loan as the Islamist-led state battles to contain a currency crisis set off by political turmoil that is depleting its foreign reserves.
The IMF's Middle East and Central Asia director, Masood Ahmed, met Prime Minister Hisham Kandil at the start of a visit coinciding with a sharp decline in the value of the Egyptian pound, which has hit a series of record lows against the dollar.
"At this stage, the putative $4.8 billion IMF deal is the only thing standing between Egypt and a disorderly economic deterioration," HSBC said in a note issued on Monday. "The fact that Mr. Ahmed is making the trip to Cairo is positive."
Egypt has endured nearly two years of political upheaval since the euphoria of the uprising that toppled Hosni Mubarak in February 2011 and eventually brought Islamists to power. Their credibility – and how well they do in forthcoming parliamentary polls – may rest on how they handle the economic crisis.
Before the visit, the International Monetary Fund had said Ahmed would discuss recent economic developments and "possible IMF support for Egypt in facing these challenges." Egyptian state media said the IMF team would stay for several days.
"We will attend many meetings with the Egyptian government today. The technical team will come later," Ahmed said after the meeting attended by Egypt's newly sworn-in finance minister, a little-known academic who is an expert on Islamic economics.
---