Judge bans media from courtroom in India gang-rape case
The media was banned from attending a pre-trial hearing in India of five men accused for raping and killing a young woman. The gang-rape case has garnered global media attention and spawned protests across in India.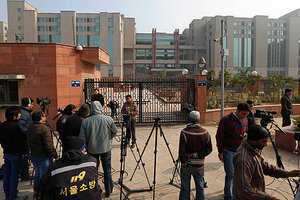 (AP Photo/Saurabh Das)
An Indian magistrate ruled Monday that the media will not be allowed to attend pre-trial hearings or the trial of the five men accused of raping and killing a young student in the Indian capital, a police official said.
Magistrate Namrita Aggarwal upheld the prosecutor's request that the media be barred from attending the proceedings, according to police spokesman Rajan Bhagat. Hundreds of journalists, lawyers from other cases and curious onlookers had crowded the courtroom where the five were to appear. Outside the courthouse complex, more than a dozen TV satellite trucks jammed the streets, and dozens of reporters — from India, the U.S., Japan and elsewhere — were waiting for news.
The five defendants later appeared before the magistrate, who scheduled another pre-trial hearing on Thursday that is expected to result in the case being sent to a special "fast-track" court. Indian courts are notoriously slow, with some cases dragging on for decades. The trial is expected to begin in the coming days. Indian rape trials are normally closed to the media.
Authorities have charged the men with murder, rape and other crimes that could bring them the death penalty. The crime caused nationwide outrage, leading to massive protests.
A sixth suspect, who is 17 years old, is expected to be tried in a juvenile court, where the maximum sentence would be three years in a reform facility.
Prosecutor Rajiv Mohan said last week that a DNA test confirmed that the blood of the victim matched blood stains found on the clothes of all the accused.
---