UN estimate of Syria death toll highlights discrepancies in casualty reporting
The 60,000 deaths in Syria reported by the United Nations last week is a big jump from the 40,000- 45,000 deaths that most other organizations report.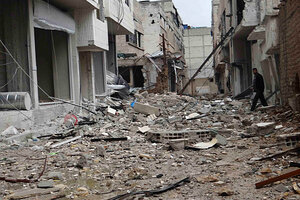 Bassem Al-Erbeeni/Shaam News Network/Reuters
A new United Nations-sponsored report that estimates more than 60,000 people have died in Syria's political violence has touched off a new dispute that underscores how little is truly known about the toll from a civil war just weeks from beginning its third year.
One Syrian activist who provided some of the numbers for the study says he believes the new numbers are inflated, while another says he believes they underrepresent the dead.
"They are being used as propaganda," said Rami Abdel Rahman, the head of the London-based Syrian Observatory for Human Rights, who believes the new numbers overstate the number of dead. "The UN is not a human rights organization, it is a political one."
Rahman said he believed the report, made public Wednesday, was being used to pressure countries into working harder to reach a political deal to stop the fighting.
Rahman's criticism is notable. His organization's numbers, gathered from informants on the ground in Syria, are the most widely quoted source for information on the daily violence inside Syria. His is also the only organization that attempts to record casualties from all sides of the conflict – rebels, the government and civilians. To date, he's logged about 46,000 deaths since the uprising against Syrian President Bashar Assad began in March 2011.
---