Syria swaps over 2,000 prisoners for Iranians held by rebels, Turkish NGO says
Over 40 Iranian hostages held since last summer by a Syrian rebel group were released Wednesday in exchange for civilian prisoners held by the Syrian government.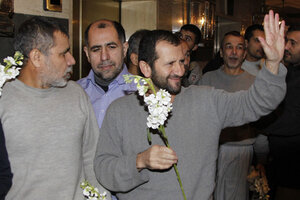 Khaled al-Hariri/REUTERS
Syrian rebels freed 48 Iranian hostages on Wednesday in exchange for the release of more than 2,000 civilian prisoners held by the Syrian government, the head of a Turkish aid agency which helped broker the deal said.
The Syrian rebel al-Baraa brigade seized the Iranians in early August and initially threatened to kill them, saying they were members of Iran's elite Islamic Revolutionary Guard Corps sent to fight for Syrian President Bashar al-Assad.
The Islamic Republic, one of Assad's closest allies, denied this, saying they were Shi'ite Muslim pilgrims visiting shrines, and it asked Turkey and Qatar to use their connections with Syrian insurgents to help secure their release.
"The 48 Iranians have been released and are being taken to Damascus, accompanied by Iranian and Syrian officials," Bulent Yildirim, head of humanitarian aid agency IHH, told Reuters by telephone from Damascus.
He said the release of 2,130 civilian prisoners, most of them Syrian but also including Turks and other foreign citizens, had begun in return. Two state-run Iranian television channels also reported that 48 Iranians had been freed in a swap.
---