France pushes back Mali rebels with airstrikes
The French intervention in former French colony Mali continued Friday. Airstrikes drove Al Qaeda-linked militants out of Konna, a city that had been captured by the rebels. France entered the conflict at the request of Mali's president.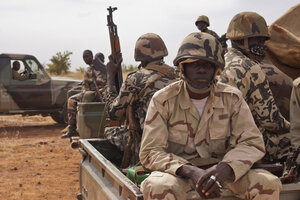 Francois Rihouay/AP
French airstrikes overnight in Mali drove back Islamist rebels from a key city and destroyed a militant command center, the French defense minister said Saturday, as West African nations authorized the immediate deployment of troops to the country.
The al-Qaida-linked militants, who have carved out their own territory in the lawless desert region of northern Mali over the past nine months, recently pressed closer to a major base of the Malian army, dramatically raising the stakes in the battle for the vast West African nation.
"The threat is a terrorist state at the doorstep of France and Europe," said French Defense Minister Jean-Yves Le Drian.
The French operation, which started Friday in the former French colony, came after an appeal for help from Mali's president. The fighting involved hundreds of French troops and overnight airstrikes on three rebel targets, said Le Drian. He said a rebel command center outside the key city of Konna was destroyed.
Adm. Edouard Guillaud said a French helicopter had been downed and that the pilot died of his wounds while he was being evacuated to safety.
A military official in Mali said Islamist militants were driven out of Konna, but that the city captured by the extremists earlier this week was not yet under government control.
"We are doing sweeps of the city to find any hidden Islamist extremist elements," said Lt. Col. Diarran Kone. "The full recovery of the city is too early to determine as we do not yet control the city, and we remain vigilant."
---