Following attack on Italian consul, Libya announces special diplomatic security force
On Saturday, gunmen opened fire on the Italian consul's armored car in Benghzi, Libya. In the wake of this attack, and the Sept. 11 attack on the US mission which killed the ambassador and three other Americans, Libya has announced a plan for a special security force to protect foreign diplomats.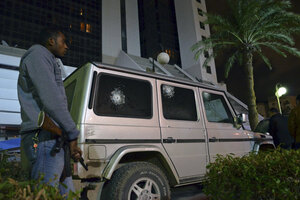 Mahmoud Sohim/AP
Libya plans to create a special force to protect diplomats, government sources said, after a gun attack on an Italian consul once again exposed the precarious security situation in the North African state.
Unidentified gunmen in Benghazi opened fire on Guido De Sanctis's armored car on Saturday. The diplomat was unhurt but the attack was a reminder of the Sept. 11 attack on the U.S. mission there that killed the ambassador and three other Americans.
"We are discussing putting in place a force that would look after diplomats. There are also plans to protect foreigners working for foreign companies," a defence ministry source said, declining to be named as the proposal was still being discussed.
"The idea is it would be mixed between police and army but would likely come under the command of the defence ministry."
The source said the members were likely to be trained abroad but did not give an estimate of how many there would be.
More than a year after the overthrow of Muammar Gaddafi, security in Libya remains in disarray.
---