Gang-rape trial faces delay as court tries to determine suspect's age
Six men have been charged with gang-raping a woman in New Delhi last month. Resolving the question of whether one of them is a minor, as the suspect insists, could delay prosecution.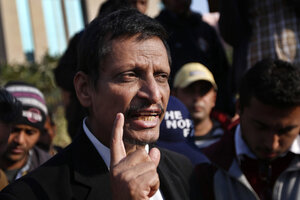 Saurabh Das/AP
One of the five men charged with gang-raping and killing a woman is a minor, his lawyer said Monday as he demanded an age-determination test in what could be a tactic to delay the case from being tried in a fast-track court.
The five charged in last month's attack of the 23-year-old student in a moving bus in New Delhi would face a possible death penalty if convicted. A sixth suspect says he is 17 years old, and if he is tried in a juvenile court he would face a maximum sentence of three years in a reform facility.
The rape of the woman, and the brutal beating that led to severe organ failure, has set off an impassioned debate about what India needs to do to prevent such tragedies. Protesters and politicians have called for tougher rape laws, police reforms and a transformation in the way the country treats women.
The five men charged with various crimes in the incident live in a slum in New Delhi, and were riding in an off-duty bus that picked up the woman and a male companion late in the evening of Dec. 16 in a posh part of the capital. Both were beaten severely and thrown off the bus. The woman died two weeks later of the injuries in a Singapore hospital.
Manohar Lal Sharma, the lawyer for one of the five charged men, Mukesh Singh, said at a court hearing Monday that his client is under 18, and that police documents indicating Singh is 26 had been "manipulated."
"If you could just see his face, he is only a child," Sharma told The Associated Press.
The hearing has been closed to the media under a gag order placed by the magistrate. The defendants have been brought to the court with their faces masked, and authorities have not released photos of the accused.
---