French will triple troops in Mali, prepare for ground fight
French military officials say they will up forces from 800 to 2500 and in Mali a huge logistical operation to support ground forces grinds into place.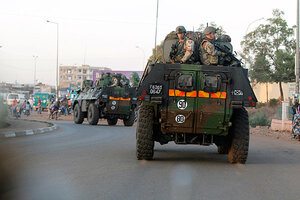 Jerome Delay/AP
After a punishing bombing campaign failed to stop the southward advance of Al Qaeda-linked fighters, France announced Tuesday it will triple the number of troops deployed to Mali, suggesting the French are preparing for a land assault to dislodge the extremists.
The move reverses months of rhetoric in which France had said they would provide aerial and logistical support for a military intervention, but insisted it would need to be led by African troops.
Last week France plunged headfirst into the conflict, authorizing air strikes after the extremists launched an aggressive push southward. Despite pounding the north of this landlocked country with 250-kilogram (550-pound) bombs for the past five days, the rebels have extended their reach, taking over a town and its strategically important military camp in the central Malian town of Diabaly on Monday.
A French Defense Ministry official, who could not be named because he was not authorized to speak publicly on the matter, said that France was increasing the number of soldiers in Mali from 800 to 2,500.
The military chiefs of the nation's neighboring Mali met in Bamako Tuesday, but none of the thousands of troops pledged by these countries have yet arrived in Mali, and it has become increasingly apparent that France will be leading the attack and not playing a supporting role.
---