Horse meat found in burgers — traces of pig, too
Horse meat and pig meat were found in burgers and ground beef sold at Ireland's biggest supermarkets. Traces of pig DNA appear in 85 percent of the tested meat, and one burger was roughly 30 percent horse meat.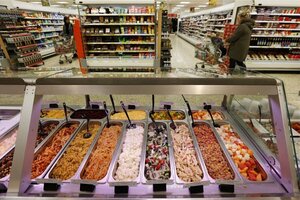 Suzanne Plunkett / Reuters / File
Horse meat, horse DNA, and pig DNA were found in burgers and other ground beef products, announced an Irish food safety watchdog. One burger, sold by global retailer Tesco, was made of roughly 30 percent horse meat.
Ireland's Agriculture Minister Simon Coveney blamed a lone meat processor in County Monaghan, on the border with Northern Ireland, for the horse meat find, which he called "totally unacceptable." Coveney told state broadcaster RTE that an imported additive used to make the burger appears to have been packed with horse meat.
The additive was "either falsely labeled, or somebody made a mistake, or somebody was behaving recklessly. That allowed some horse meat product to come into the system that shouldn't have been here," he said, adding that veterinarians had been dispatched to the meat processor and other factories to conduct more tests.
"A mistake has been made here, it has been flagged by our systems as it should have been, and we will take the appropriate action to ensure it doesn't happen again," Coveney said.
U.K.-based Tesco PLC apologized for its horsemeat-heavy burger and said it was pulling Tesco-brand burgers from stores in Britain and Ireland as a precaution. The find is unwelcome news for the world's fourth-largest food retailer, known in the United States under its Fresh & Easy brand.
"The presence of illegal meat in our products is extremely serious," the company said in a statement. "Our customers have the right to expect that food they buy is produced to the highest standards. ... We understand that many of our customers will be concerned by this news, and we apologize sincerely for any distress."
---