US demands Morsi repudiate 'deeply offensive' comments
Egyptian President Morsi must reject his past statements calling Zionists "apes and pigs" and urging supporters to "nurse our children and our grandchildren on hatred," say White House officials.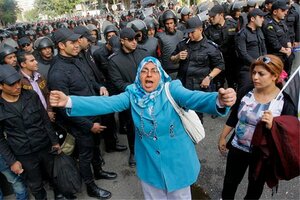 Amr Nabil / AP / File
The Obama administration on Tuesday gave a blistering review of recently publicized remarks that Egyptian President Mohammed Morsi made almost three years ago about Jews and called for him to repudiate what it called unacceptable rhetoric.
In blunt comments, the White House and State Department said Morsi's statements were "deeply offensive" and ran counter to the goal of peace in the region. The State Department, noting that a senior congressional delegation is now visiting Egypt, said the remarks complicated efforts to provide economic and military aid to Egypt. "We believe that President Morsi should make clear that he respects people of all faiths and that this type of rhetoric is unacceptable in a democratic Egypt," White House spokesman Jay Carney told reporters.
Morsi was a leader in the Muslim Brotherhood in 2010 when, according to video broadcast last week on Egyptian television he asked Egyptians to "nurse our children and our grandchildren on hatred." Months later, in a television interview, Morsi referred to Zionists as bloodsuckers who attack Palestinians, describing Zionists as "the descendants of apes and pigs."
"We completely reject these statements as we do any language that espouses religious hatred," State Department spokeswoman Victoria Nuland told reporters. "This kind of rhetoric has been used in this region for far too long. It's counter to the goals of peace."
A group of senators currently in Cairo includes Sens. John McCain (R) of Arizona, Lindsey Graham (R) of South Carolina, Kelly Ayotte (R) of New Hampshire, Kirsten Gillibrand (D) of New York, Richard Blumenthal (D) of Connecticut, Sheldon Whitehouse (D) of Rhode Island, and Christopher Coons (D) of Delaware. Nuland said she expected they would make their views known to Egypt's leadership.
Morsi's remarks and the Obama administration's rebuke marked a new point of tension in the complex relationship between the U.S. and Egypt's fledgling democracy.
---