'French stench,' caused by gas leak, drifts to England
'French stench' was what London tabloids called the gas leak from a French chemical factory. The rotten egg 'stench' came from methanethiol, a non-toxic additive used in natural gas because its sulfurous smell enables gas leaks to be detected.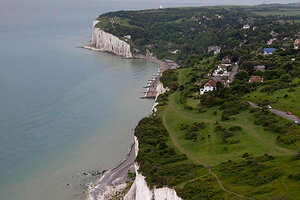 REUTERS/David Parry/PA Wire/Paddy Power/handout
A cloud of harmless gas smelling of sweat and rotten eggs leaked from a chemicals factory in northwest France and drifted across the English Channel as far as London on Tuesday.
The leak occurred on Monday morning at a Lubrizol France plant near Rouen, 120 km (75 miles) northwest of Paris, and winds blew the invisible gas cloud south over northern France on Monday night and then up into England on Tuesday.
The fire brigade in the county of Kent, southeast of London, warned residents to keep their doors and windows closed due to the gas, which may make some people feel nauseous, and police said they had reports of an acrid smell in the capital.
Lubrizol France, which makes additives for industrial lubricants and paint, said the gas was mercaptan, also known as methanethiol, a colourless additive used in natural gas because its sulphurous smell enables gas leaks to be detected.
It was due to start an operation on Tuesday evening to stop the fumes, a process that could take hours or days, Pierre-Henry Maccioni, head of the Seine-Maritime regional government, said.
"It's not so much a leak as a product that has decomposed, which smells very bad and which is escaping," the firm's internal operations director, Pierre-Jean Payrouse, told RTL radio.
"An investigation is under way but our priority is to deal with the problem."
London tabloids, quick to seize on historical animosity between the British and French, went to town with the whiff. A Daily Mail headline lambasted a "French stench" while an article in the Sun cited a "mystery pong" that was "blamed on France".
---