Jordanians head to the polls, but Muslim Brotherhood stays away
The Islamist group decided to boycott Jordan's first parliamentary elections since the Arab Spring, but Jordanians still made their way to polling stations on Wednesday.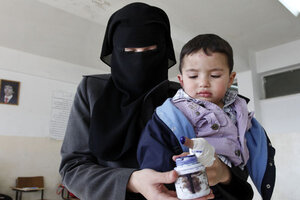 Mohammad Hannon/AP
Jordanians voted in their first parliamentary elections since the Arab Spring revolts on Wednesday, but a boycott by the main Islamist party guaranteed there would be no repeat of an Egypt-style revolution via the ballot box.
The popular Muslim Brotherhood shunned the poll saying the electoral system had been rigged against large, populated urban areas where it is strongest in favour of rural tribal areas where conservative, pro-government forces are entrenched.
Turnout was 47 percent by around 1500 GMT, officials said, but Islamists accused the authorities of trying to inflate low turnout to disguise the impact of their boycott. Official results were expected on Thursday.
The Brotherhood's boycott has reduced the election to a contest between tribal leaders, establishment figures and businessmen, with just a few of the 1,500 candidates running for recognized parties. Allegations of vote-buying are rife.
"God willing these elections will produce a good parliament that will consider the needs of the citizens. We hope this parliament will be better than the previous one," said Iskandar Nuqul, a voter in Amman's first electoral district.
Jordan, a US-backed monarchy bordering Israel, has seen large protests against corruption and criticizing King Abdullah, though not on the scale of those that toppled rulers in Egypt and Tunisia and led to civil wars in Libya and Syria.
The king remains for many Jordanians the ultimate guarantor of stability in Jordan, whose neighbors include Israel, civil-war torn Syria, and an Iraq also riven by sectarian strife.
Yet despite the growing pressure for change, the political elite is wary of the Arab revolts and the rise of Islamists, especially the Muslim Brotherhood - Jordan's most popular party - which is pressing for major political change.
Poorer Jordanians of Palestinian origin, a majority of the population, are drawn to the Brotherhood, which has become the champion of those disenfranchised by the electoral system. The wealthy Palestinian business elite mostly does not vote.
COSTLY STATE PATRONAGE
The tribal establishment is keen to maintain its tight grip on power and costly state patronage, drawing resentment from the urban poor and the middle classes of Palestinian origin, frozen out of the top army, security and government jobs.
---