More than 50 killed, and 80 injured in Venezuelan prison riot
A prison riot between the Venezuelan National Guard and armed prisoners left more than 50 people dead. Both the ruling party and the opposition called for better enforcement of the law in prisons.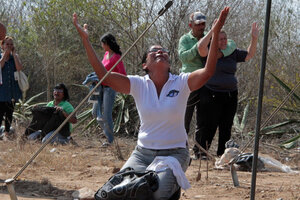 Roger Varela/El Informador/AP
Venezuela's top prisons official said the government was evacuating a prison Saturday after a deadly riot that reportedly left dozens of people dead amid a clash between National Guard soldiers and armed inmates.
Penitentiary Service Minister Iris Varela said officials decided to evacuate all inmates from the Uribana prison in the central city of Barquisimeto after the bloodshed on Friday in order to "close this chapter of violence." Varela said inmates were being taken to other facilities. She spoke in a televised news conference and did not immediately give a death toll.
Vice President Nicolas Maduro called the violence tragic and said Prosecutor General Luisa Ortega Diaz and National Assembly President Diosdado Cabello would lead the investigation.
"The prisons have to be governed by law," Maduro said on television early Saturday.
Humberto Prado, an activist who leads the watchdog group Venezuelan Prisons Observatory, said inmates' relatives and media accounts put the toll at 55 killed and 88 injured.
The Venezuelan newspaper Ultimas Noticias and the television channel Globovision reported more than 50 killed, both citing Ruy Medina, the director of Central Hospital in the city.
Relatives wept outside the prison during the violence, and cried at the morgue Saturday as they waited to identify bodies.
Varela said Friday that the riot broke out when groups of inmates attacked National Guard troops who were attempting to carry out an inspection.
---