230 die in nightclub: Fire in Brazil is part of a tragic pattern
230 die in nightclub: The fire in Brazil is the fourth such nightclub fire in the past decade. Survivors of the 2003 Rhode Island fire, who saw 100 die, lament the failure to learn the lessons of that tragedy.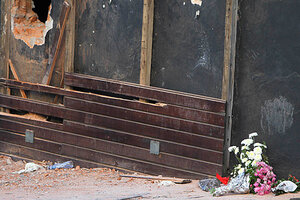 REUTERS/Edison Vara
Argentina, a year later. Thailand in 2008. Russia in 2009.
For survivors of a 2003 nightclub fire in the state of Rhode Island that was one of the deadliest in U.S. history, the fire in Brazil which saw more than 230 die Sunday is the latest in a series of reminders that no matter how far away, those who ignore the lessons of their tragedy can pay a horrible cost.
On a cold night in February 2003, the rock band Great White took the stage at The Station nightclub in West Warwick, Rhode Island. During the show, pyrotechnics set fire to flammable soundproofing foam that lined the walls and ceiling, killing 100 and injuring 200.
Over the decade since, survivors have come together time and again over news of similar disastrous fires overseas.
"We're very tight," said Todd King, one of the survivors. "You can't put into words what we saw."
---