Brazil nightclub fire: No fire alarm, just one door
"Why couldn't they get out?" asks the mother of one of the 231 nightclub victims. Investigators have found that the overcrowded club had only one exit and no smoke or fire alarms.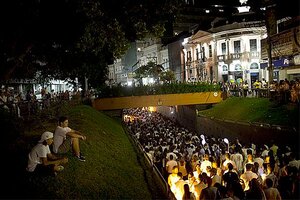 Felipe Dana / AP
The nightclub Kiss was hot, steamy from the press of beer-fueled bodies dancing close. The Brazilian country band on stage was whipping the young crowd into a frenzy, launching into another fast-paced, accordion-driven tune and lighting flares that spewed silver sparks into the air.
It was another Saturday night in Santa Maria, a university town of about 260,000 on Brazil's southernmost tip.
Then, in the pre-dawn hours of Sunday, it turned into a scene of indescribable horror as sparks lit a fire in the soundproofing material above the stage, churning out black, toxic smoke as flames raced through the former beer warehouse, killing 231 people.
"I was right there, so even though I was far from the door, at least I realized something was wrong," said Rodrigo Rizzi, a first-year nursing student who was next to the stage when the fire broke out and watched the tragedy unfold, horror-stricken and helpless.
"Others, who couldn't see the stage, never had a chance. They never saw it coming."
There was no fire alarm, no sprinklers, no fire escape. In violation of state safety codes, fire extinguishers were not spaced every 1,500 square feet, and there was only one exit. As the city buried its young Monday, questions were raised about whether Brazil is up to the task of ensuring the safety in venues for the World Cup next year, and the Olympics in 2016. Four people were detained for questioning, including two band members and the nightclub's two co-owners.
Rizzi hadn't even planned on going out that night. He was talked into it by friends and knew dozens at the club, which was packed with an estimated 1,200 to 1,300 people. He said the first sign of a problem was insulation dripping above the stage.
---