Israel sends message with dawn attack in Syria
In an early morning air raid Israel targeted weapons being transfered from Syrian President Assad's military to Hezbollah. Official secrecy shrouded the event, which reportedly killed two in Jamraya (located between Damascus and Lebanon's border).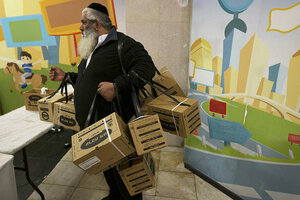 REUTERS/Ronen Zvulun
Israeli jets bombed a convoy near Syria's border with Lebanon early on Wednesday, sources told Reuters, apparently targeting weapons destined for Hezbollah in what some called a warning to Damascus not to arm Israel's Lebanese enemy.
Syrian state television accused Israel of bombing a military research centre, at Jamraya between the capital and the nearby border, but Syrian rebels disputed that, saying their forces had attacked the site. No source spoke of a second Israeli strike.
"The target was a truck loaded with weapons, heading from Syria to Lebanon," said one Western diplomat, echoing others who said the convoy's load may have included anti-aircraft missiles or long-range rockets. Several sources ruled out the presence of chemical weapons, about which Israel has also raised concerns.
Diplomatic sources from three countries told Reuters that chemical weapons were believed to be stored at Jamraya, and that it was possible that the convoy was near the large site when it came under attack. However, there was no suggestion that the vehicles themselves had been carrying chemical weapons.
The overnight raid followed warnings from Israel that it was ready to act to prevent the revolt against President Bashar al-Assad leading to Syria's chemical weapons and modern rockets reaching either his Hezbollah allies or his Islamist enemies.
A source among Syrian rebels said an air strike around dawn (0430 GMT) blasted a convoy near the border: "It attacked trucks carrying sophisticated weapons from the regime to Hezbollah," the source said, adding that it took place inside Syria.
---