Nuke fast track? Iran plans to up uranium-enrichment capacity
In a letter to the UN's nuclear watchdog, Tehran announced it was planning to replace its centrifuges, which experts worry could significantly speed up development of a nuclear weapon.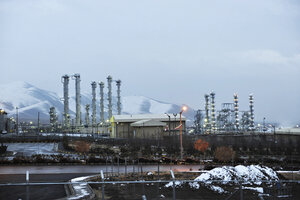 Hamid Foroutan/ISNA/AP/File
Iran has announced plans to install and operate advanced uranium enrichment machines, in what would be a technological leap allowing it to significantly speed up activity the West fears could be put to developing a nuclear weapon.
In a letter to the International Atomic Energy Agency, Tehran said it would introduce new centrifuges to its main enrichment plant near the central town of Natanz, according to an IAEA communication to member states seen by Reuters.
The defiant move will increase concerns in the West and Israel about Iran's nuclear ambitions, which Tehran says are entirely peaceful, and may further complicate efforts by big powers to negotiate curbs on its enrichment program.
Enriched uranium can fuel nuclear power plants, Iran's stated aim, or provide material for bombs if refined to a high degree, which the West suspects is Tehran's underlying purpose.
A new generation centrifuge could, if successfully deployed, refine uranium several times faster than the model Iran now has.
"It is certainly a provocation to increase any enrichment capacity at all," a senior Western diplomat said.
It was not clear how many of the upgraded centrifuges Iran aimed to put in place at Natanz, which is designed for tens of thousands of machines, but the wording of the IAEA's note implied it could be up to roughly 3,000.
---