Richard III had a twang? Secrets of reconstructing a voice
Richard III, whose bones were identified Monday, may have had the lilt of Britain's West Midlands, say historians.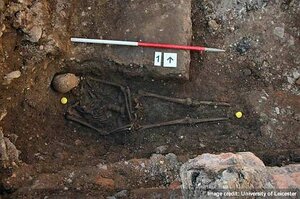 University of Leicester
Modern ears will never hear the true voice of medieval English King Richard III, but a new look at the monarch's own notes suggests he may have had an accent not unlike today's residents of the United Kingdom's West Midlands county.
University of Leicester archaeologists announced Monday (Feb. 4) that a skeleton unearthed beneath a parking lot in Leicester, England, is almost certainly that of the king. The grave had been lost for centuries after the king's death in battle and burial in 1485.
Archaeologists based the identification on battle wounds consistent with historical records of Richard III's death, as well as radiocarbon dating of the skeleton and a DNA analysis linking the bones to two modern descendents of the king.
Richard III's writings
Before he became a historical mystery, however, Richard wrote letters, some of which survive. The first and oldest, dating to 1469, comes from before Richard's reign (he ascended the throne in 1483). In the letter, Richard's secretary requests a loan of 100 pounds from Sir John Say, the chancellor of the Duchy of Lancaster, to help alleviate a disturbance in Yorkshire. To underscore the urgency of the request, Richard put pen to paper himself, writing a two-line addendum begging that Say "fail me not in this time of my great need." [Gallery: The Search for Richard III]
---