Japan says Russian jets intruded in its airspace
Tokyo's claim coincides with Japan's annual 'Northern Territories Day,' during which rallies are held to urge Russia to return several islands the Soviet Union seized during World War II.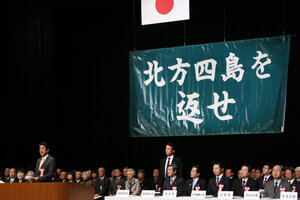 Koji Sasahara/AP
Japan's Defense Ministry said two Russian fighter jets briefly intruded Thursday into Japanese airspace as the country was holding rallies demanding that Moscow return a group of disputed islands.
Japan's Foreign Ministry lodged a protest with the Russian Embassy in Tokyo. Russia, however, denied any border violation.
The incident occurred as Japan was observing "Northern Territories Day," when it holds annual rallies urging Moscow to return the islands, seized by the Soviet Union in the final days of World War II.
Defense Ministry official Yoshihide Yoshida said Japanese air force jets scrambled after an intrusion by two Su-27 jets which lasted just over a minute.
Mr. Yoshida said it was not immediately known whether the incident was intentional or accidental, but that it was "extremely problematic." The last intrusion by Russian jets in Japanese airspace was on Feb. 9, 2008, he said.
In Moscow, the Russian Defense Ministry issued a statement denying any intrusion. It said Russian military aircraft taking part in a military exercise in the area flew in "strict conformity with international rules without any border violations."
It was not immediately clear whether the incident off the northwestern tip of Japan's Hokkaido island was related to Northern Territories Day.
---