In Mali, two suicide bombings could indicate new wave of violence
Two suicide bombings, in nearly the same spot at a checkpoint outside of Gao, could indicate another wave of violence from Islamic militants in Mali. French and Malian troops had found industrial-strength explosives in the city earlier in the week.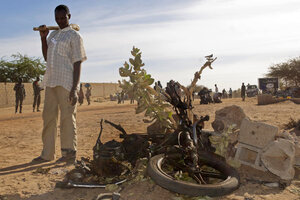 Francois Rihouay/Reuters
A suicide bomber wearing military fatigues blew himself up near a checkpoint at the entrance to northern Mali's largest city, wounding one soldier in the second attack to hit the same location since Friday, residents and officials said Sunday.
A column of French tanks stood guard along the sandy road leading to the scene, as French and Malian soldiers patrolled the surrounding residential neighborhood of mud-walled homes.
The attack took place late Saturday at about 11 p.m., according to Malian Capt. Daouda Diarra. On Sunday morning, the bomber's torso lay in the scorching sun in the middle of the road, while his head sat in a pile of sand in a nearby wheelbarrow.
"When he leaped over the wall, we fired at him," Diarra said of the suicide bomber. "He then detonated his explosive belt."
Cpl. Mamadou Abdoulaye Maiga said other weapons were left behind at the scene, and French forces detonated three grenades Sunday morning.
It was the exact location where an earlier suicide bomber riding a motorcycle had blown himself up Friday morning, an attack that raised fears the militants ousted from Gao by French and Malian forces could now be launching a new wave of violence.
The Malian military gave no details about the bomber in Saturday's attack, stating only that the young man was Arab and a suspected member of MUJAO — the Movement for Oneness and Jihad in West Africa.
The group seized control of Gao in April 2012 and had ruled the city until the arrival of French and Malian forces in late January. Military officials have said that residual elements of the group remain in the Gao area, and other fighters are hiding in the surrounding desert.
Friday's suicide bomber had been living at a known jihadist hideout in Gao, according to local residents. A guard at the home said that it had been visited three months ago by the one-eyed terror leader Moktar Belmoktar, who claimed responsibility for the attack on the BP-operated natural gas plant in Algeria.
Other jihadist leaders from MUJAO also had stayed in the luxurious two-story home with a verdant courtyard, which the militants took over when they captured Gao last year, the guard said.
---