Who is 'El Chapo' Guzman, Public Enemy Number One?
Chicago has resurrected its "Public Enemy No. 1" designation, not used since it was created for Al Capone, to label Mexican drug kingpin Joaquin "El Chapo" Guzman Luera.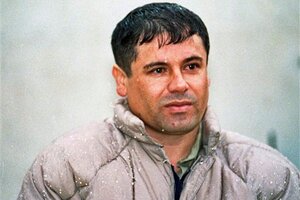 Damian Dovarganes / AP / File
A drug kingpin in Mexico who has never set foot in Chicago has been named the city's new Public Enemy No. 1 — the same notorious label assigned to Al Capone at the height of the Prohibition-era gang wars.
The Chicago Crime Commission announced the move Thursday, saying it considers Joaquin "El Chapo" Guzman even more menacing than Capone because he's the leader of the Sinaloa cartel, which supplies most of the narcotics sold in the city.
"What Al Capone was to beer and whiskey during Prohibition, Guzman is to narcotics," said Art Bilek, the commission's executive vice president. "Of the two, Guzman is by far the greater threat. ... And he has more power and financial capability than Capone ever dreamed of."
The commission — a non-government body that tracks city crime trends — designated Capone Public Enemy No. 1 in 1930. It has declared other outlaws public enemies, but Capone was the only one deemed No. 1.
Until now.
Guzman is thought to be holed up and guarded by a personal army in a Mexican mountain hideaway. And there's nothing to indicate he's ever been anywhere near Chicago, according to the Drug Enforcement Administration, which joined the commission in affixing the title to Guzman.
---