Family of slain girlfriend seeks answers, Pistorius to face bail hearing
The family of Reeva Steenkamp, the South African model shot on Valentine's Day, is asking why she died. South African Olympian and double-amputee Oscar Pistorius, who is accused of murdering Steenkamp, his girlfriend, will face a bail hearing on Tuesday.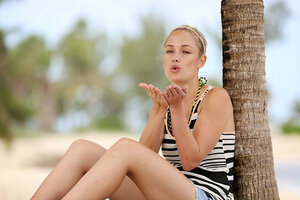 Courtesy Stimulii-HO/AP
The family of Oscar Pistorius' slain girlfriend wants answers, her mother told a Johannesburg newspaper as the country waited to hear for the first time why prosecutors believe the iconic athlete murdered Reeva Steenkamp by shooting her multiple times on Valentine's Day morning.
June Steenkamp, Reeva Steenkamp's mother, told the Times in a front page interview: "Why? Why my little girl? Why did this happen? Why did he do this?"
"Just like that she is gone," the paper quoted her as saying in what it described as an emotional telephone interview. "In the blink of an eye and a single breath, the most beautiful person who ever lived is no longer here."
Pistorius, who remains in custody in a red-brick, one-story police station in Pretoria, is set to return to court Tuesday for the start of his bail hearing. That hearing will be the first opportunity for the prosecution to describe evidence police gathered against the 26-year-old double-amputee runner and the reasons why he was charged with murder.
Pistorius' family denies he committed murder though has not addressed whether he shot her. When word first emerged about the killing there was speculation in the local media that Steenkamp had been mistaken for an intruder in Pistorius' home.
Steenkamp's funeral will also be held Tuesday in her hometown of Port Elizabeth on South Africa's southern coast, her family said. It would be a private ceremony at a local crematorium, closed to the public and media.
---