Dozens killed in Damascus car bombing
The headquarters of Syria's ruling party was reportedly targeted in what the government once again described as a terrorist attack.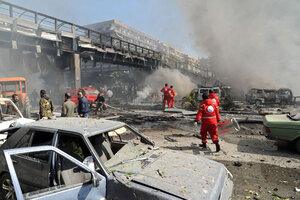 SANA/AP
A car bombing near Syria's ruling party headquarters in Damascus killed 53 people on Thursday, according to state media, while mortar rounds exploded near the army's central command in the city.
It was the third straight day of attacks on the center of the capital, among the deepest and fiercest on the heart of Bashar Assad's seat of power during the civil war.
The car bombing was the deadliest attack inside Damascus in nine months and within hours, two other bombings and a mortar attack on the military compound followed.
While no one group has claimed responsibility, the attacks suggest that rebel fighters who have gotten bogged down in their attempts to storm the capital are resorting to guerrilla tactics to loosen Assad's grip on the capital.
The day's deadliest attack struck a main street on the edge of central Mazraa neighborhood, near the headquarters of Assad's Baath party and the Russian Embassy, as well as a mosque, a hospital and a school.
TV footage of the blast site showed firemen dousing a flaming car with hoses. The state news service, SANA, published photos showing a large crater in the middle of the rubble-strewn street and charred cars.
Witnesses at the scene said a car exploded at a security checkpoint between the Russian Embassy and the central headquarters of Assad's ruling party.
"It was huge. Everything in the shop turned upside down," one local resident said. He said three of his employees were injured by flying glass that killed a young girl who was walking by when the blast hit.
---