Steenkamp family struggles with grief, Pistorius released on bail
Oscar Pistorius spent Saturday at his uncle's home after being released on bail. Pistorius, the double-amputee South African Olympic sprinter, is accused of murdering his girlfriend Reeva Steenkamp. The Steenkamp family has been beset by grief.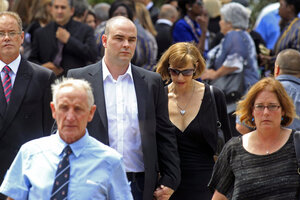 Schalk van Zuydam/AP
Far from the courtroom drama that has gripped South Africa, the family of Oscar Pistorius' slain girlfriend has struggled with its own private deluge of grief, frustration and bewilderment.
The victim's relatives also harbor misgivings about efforts by the Olympian's family to reach out to them with condolences.
Pistorius, meanwhile, spent Saturday at his uncle's home in an affluent suburb of Pretoria, the South African capital, after a judge released him on bail following days of testimony that transfixed South Africa and much of the world. He was charged with premeditated murder in the shooting death of girlfriend Reeva Steenkamp in the early hours of Valentine's Day, but the athlete says he killed her accidentally, opening fire after mistaking her for an intruder in his home.
"We are extremely thankful that Oscar is now home," his uncle, Arnold Pistorius, said in a statement that also acknowledged the law must run its course. "What happened has changed our lives irrevocably."
The Pistorius family took steps to lower its profile on social media after someone hacked into the Twitter account of his older brother, Carl, family spokesman Janine Hills said.
"Carl did not tweet this afternoon, out of respect to Oscar and Reeva," Hills said in a statement. "We are busy cancelling all the social media sites for both Oscar's brother and his sister."
---