West Bank tensions flare after Palestinian detainee's death
Israel has called for a stop to anti-Israeli protests in the West Bank. Palestinians are angered by the death of a detainee who Israeli officials say died of a heart attack in an Israeli prison Saturday. Palestinian officials have called for an investigation into the death.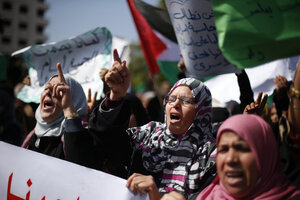 Suhaib Salem/Reuters
Israel on Sunday demanded the Palestinian Authority stem a surge of anti-Israeli protests ahead of US President Barack Obama's visit to the region next month.
A senior aide to Palestinian President Mahmoud Abbas gave no indication the Authority, which exercises limited self-rule in the occupied West Bank, would issue any call for calm, and blamed Israel for the spike in unrest.
---