Pope Benedict bids emotional farewell
Amidst tens of thousands of supporters, Pope Benedict used his final weekly general audience to say goodbye. His resignation will become official at 8 p.m. Thursday. He will reside in the papal summer home for a couple of months before moving on to a quiet retirement in the Vatican Gardens. In the meantime, the Church's cardinals will pick a successor.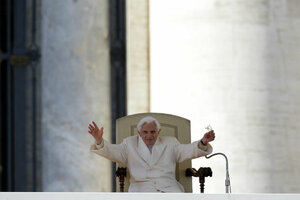 AP Photo/Gregorio Borgia
Pope Benedict slips quietly from the world stage on Thursday after a private last goodbye to his cardinals and a short flight to a country palace to enter the final phase of his life "hidden from the world".
In keeping with his shy and modest ways, there will be no public ceremony to mark the first papal resignation in six centuries and no solemn declaration ending his nearly eight-year reign at the head of the world's largest church.
His last public appearance will be a short greeting to residents and well-wishers at Castel Gandolfo, the papal summer residence south of Rome, in the late afternoon after his 15-minute helicopter hop from the Vatican.
When the resignation becomes official at 8 p.m. Rome time (02.00 p.m. EST), Benedict will be relaxing inside the 17th century palace. Swiss Guards on duty at the main gate to indicate the pope's presence within will simply quit their posts and return to Rome to await their next pontiff.
Avoiding any special ceremony, Benedict used his weekly general audience on Wednesday to bid an emotional farewell to more than 150,000 people who packed St Peter's Square to cheer for him and wave signs of support.
With a slight smile, his often stern-looking face seemed content and relaxed as he acknowledged the loud applause from the crowd.
---