World powers soften toward Iran
Western officials offered to ease sanctions in return for Iran reducing its uranium enrichment activities. Following talks on Wednesday, Iran's chief negotiator expressed appreciation that the other countries had moved 'closer to our viewpoint'.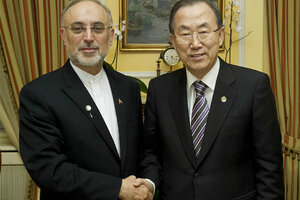 AP Photo/The United Nations, Evan Schneider
Iran was upbeat on Wednesday after talks with world powers about its nuclear work ended with an agreement to meet again, but Western officials said it had yet to take concrete steps to ease their fears about its atomic ambitions.
Rapid progress was unlikely with Iran's presidential election, due in June, raising domestic political tensions, diplomats and analysts had said ahead of the Feb. 26-27 meeting in the Kazakh city of Almaty, the first in eight months.
The United States, China, France, Russia, Britain and Germany offered modest sanctions relief in return for Iran curbing its most sensitive nuclear work but made clear that they expected no immediate breakthrough.
In an attempt to make their proposals more palatable to Iran, the six powers appeared to have softened previous demands somewhat, for example regarding their requirement that the Islamic state ship out its stockpile of higher-grade uranium.
Iran's chief nuclear negotiator Saeed Jalili said the powers had tried to "get closer to our viewpoint", which he said was positive.
---