Abou Zeid killed? Local Malians say it happened, but French not so sure
Abou Zeid killed: Sources in Mali that Al Qaeda commander Abdelhamid Abou Zeid was killed four days ago as French and Malian forces continued their pursuit of Islamist militants in the northern part of the country.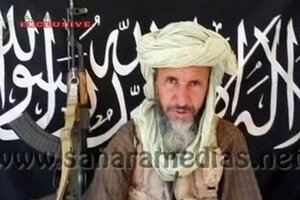 Sahara Media via Reuters TV/REUTERS
One of al Qaeda's most feared commanders in Africa has been killed by French air strikes in north Mali, sources close to Islamist militants and tribal elders said on Friday, but France said it could not confirm this.
The local sources said Abdelhamid Abou Zeid, blamed for kidnapping at least 20 Western hostages in the Sahara desert in recent years, was among 40 militants killed four days ago in the foothills of the Adrar des Ifoghas mountains.
About 1,200 French troops and 800 Chadian soldiers are hunting down pockets of al Qaeda-linked insurgents in the border region with Algeria after a seven-week French-led ground-and-air operation broke Islamist domination of northern Mali.
Algeria's Ennahar television, which is well connected with Algerian security services, reported Abou Zeid's death on Thursday but French, Malian and Chadian officials did not confirm it.
An Algerian former smuggler turned jihadi, Abou Zeid is regarded as one of the most ruthless operators in al Qaeda in the Islamic Maghreb (AQIM). He is believed to have executed British hostage Edwin Dyer in 2009 and 78-year-old Frenchman Michel Germaneau in 2010.
---