How Post-Chávez era depends on Maduro
The death of longtime Venezuelan leader Hugo Chávez, leaves questions about that country's future. Vice President Nicolas Maduro is the likely successor, but it's unclear whether he will pursue the same socialist policies as his predecessor. A state funeral for Chávez will take place on Friday.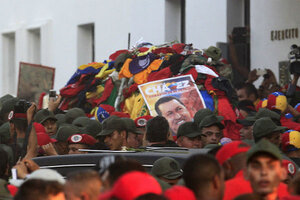 REUTERS/Edwin Montilva
Weeping and shouting, a sea of Hugo Chavez's supporters paraded his coffin through the streets of Caracas on Wednesday in an emotional outpouring that could help his deputy win an election and keep his self-styled socialist revolution alive.
Hundreds of thousands of "Chavistas" marched behind a hearse carrying the remains of the flamboyant and outspoken president, draped in Venezuela's blue, red and yellow national flag.
Avenues resounded with chants of "Chavez lives! The fight goes on!" as supporters showered flowers onto the coffin and jostled to touch it. Loudspeakers played recordings of the charismatic socialist giving speeches and singing.
Some supporters held heart-shaped placards that read: "I love Chavez!" Others cheered from rooftops, waving T-shirts.
Ending one of Latin America's most remarkable populist rules, Chavez died on Tuesday.
His body was to be taken to a military academy later on Wednesday to lie in state until his state funeral on Friday.
The future of Chavez's socialist policies, which won him the adoration of poor Venezuelans but infuriated opponents who denounced him as a dictator, now rests on the shoulders of Vice President Nicolas Maduro, the man he tapped to succeed him.
"We ask our people to channel this pain into peace," Maduro said.
---