150 arrested in Pakistan after burning Christian homes
Christians in Pakistan demonstrated Sunday for better compensation and government intervention after dozens of Christian homes were burned. The fires were in response to a Muslim accusing a Christian man of blasphemy.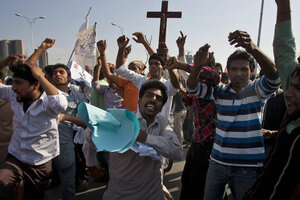 Anjum Naveed/AP
Police have arrested around 150 people accused of burning dozens of Christian houses in eastern Pakistan after a non-Muslim was accused of making offensive comments about Islam's Prophet Muhammad, police said Sunday as Christians rallied against the destruction.
The Christian demonstrators blocked a main highway in Lahore and police fired tear gas shells to disperse the protesters who demanded assistance from the government.
Government spokesman Pervaiz Rasheed promised the government would help hem rebuild their houses, but the Christians expressed dissatisfaction with the way the government was handling the incident.
"I have been robbed of all of my life's savings," Yousuf Masih said, standing close to his burned house. He said the government's announcement that it would give 200,000 rupees ($2,000) compensation to each family was a joke.
The incident began on Friday after a Muslim accused a Christian man of blasphemy — an offense that in Pakistan is punished by life in prison or death. On Saturday, a mob of angry Muslims rampaged through the Christian neighborhood, burning about 170 houses.
The Christian man is in police custody pending an investigation into the allegations.
Those who rioted are being investigated for alleged arson, robbery, theft, and terrorism, said police officer Abdur Rehman. The Pakistani police usually arrest rioters to tamp down public anger, but those accused are rarely convicted.
The law is often misused to settle personal scores and rivalries.
---