Driver of gang-rape bus in Delhi hangs himself in prison
The driver of the bus in which a young Indian woman was gang-raped appears to have hanged himself in his cell. But the man was not on suicide watch, and his lawyer suspects foul play.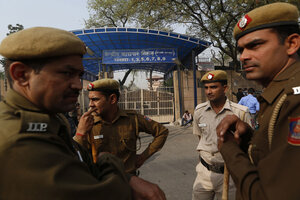 Saurabh Das/AP
The driver of the bus in which a young Indian woman was gang-raped and fatally injured in December hanged himself in his jail cell on Monday, prison authorities said, but his family and lawyer said they suspected "foul play."
Ram Singh, the main accused in India's most high-profile criminal case, killed himself just before dawn in a cell he shared with three inmates in New Delhi's Tihar jail, prison spokesman Sunil Gupta said.
Singh fashioned a noose from threads torn from the mat he slept on and hanged himself from a grill in the ceiling before dawn. While there were closed circuit cameras throughout Tihar, India's highest-security prison, there were none in individual cells, Gupta said.
Gupta could not say how long it would have taken Singh to make the noose or how he had managed to loop it through the grill, which was eight feet (2.3 meters) above the floor. He may have stood on a plastic bucket, Indian media reported.
Singh's lawyer, V.K. Anand, said his client had been composed and calm when he spoke to him in court on Friday and "didn't have any complaints." Singh, who faced the death penalty if convicted of murder, had not been on suicide watch, Anand and Gupta said.
"I know he had a few complaints of jail authorities torturing him, but nothing that would make him take his own life. We can't rule out foul play. Nothing is adding up," Anand said.
Anand has previously always denied that his client was being maltreated in prison. He would not elaborate on the "torture."
---