In interviews, new Pope Francis confirms commitment to poor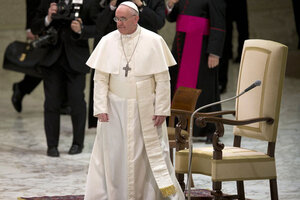 Alessandra Tarantino/AP
Pope Francis offered intimate insights Saturday into the moments after his election, telling journalists that he was immediately inspired to take the name of St. Francis of Assisi because of his work for peace and the poor — and that he himself would like to see "a poor church and a church for the poor."
"Let me tell you a story," Francis said in a break from his prepared text during a special gathering for thousands of journalists, media workers and guests in the Vatican's auditorium.
Francis then described how he was comforted by his friend, Brazilian Cardinal Claudio Hummes, as it appeared the voting was going his way and it seemed "a bit dangerous" that he would reach the two-thirds necessary to be elected.
RECOMMENDED: How much do you know about the Catholic Church? Take our quiz!
When the threshold was reached, applause erupted in the frescoed Sistine Chapel.
"He (Hummes) hugged me. He kissed me. He said don't forget about the poor," Francis recalled. "And that's how in my heart came the name Francis of Assisi," who devoted his life to the poor, missionary outreach and caring for God's creation.
He said some have wondered whether his name was a reference to other Francis figures, including St. Frances de Sales or even the co-founder of the pope's Jesuit order, Francis Xavier.
---