Pakistan's government resigns, smoothing way towards elections
This is the first time a democratic government has finished its term in the country, which has a history of coups.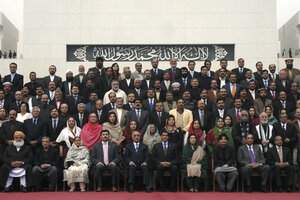 AP
Pakistan's government passed a major milestone Saturday, with the parliament becoming the first democratically chosen body to finish its term in a country that has faced three military coups and persistent political turmoil.
But after years of militant attacks, worsening electricity blackouts and faltering economic growth, the political party that took office five years ago on a wave of sympathy following the assassination of iconic leader Benazir Bhutto will likely find it more difficult this time to win voters to its side.
Underscoring divisions, politicians failed to reach agreement on a caretaker government in time for the final session of parliament before new elections are held. The country's constitution calls for a vote within 60 days, although no date has yet been set.
RECOMMENDED: How much do you know about Pakistan? Take this quiz.
Prime Minister Raja Pervaiz Ashraf, who maintains his position in the meantime, hailed the peaceful transition as a success for his Pakistan People's Party,
"We have strengthened the foundations of democracy to such an extent that no one will be able to harm democracy in future," Ashraf said during a nearly hourlong televised address to the nation.
Ashraf portrayed the problems in the country as something inherited from the previous regime of ousted leader Gen. Pervez Musharraf.
One of the ruling party's main achievements has been its sheer survival — no small feat in a country that has experienced three successful coups and many more unsuccessful ones.
President Asif Ali Zardari has shown a remarkable ability to hold together a warring coalition government whose members threaten to quit every few months or so. He's also managed a balance between the need for U.S. assistance amid a deteriorating relationship between the two countries and rising anti-American sentiment.
---