Amid Syrian tensions, Lebanon elects new prime minister
Lebanon's new Prime Minister Tammam Salam, pledged to protect his country from neighbor Syria's civil war. Salam may also struggle to unite politically divided Lebanon.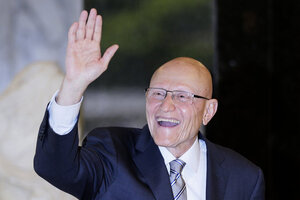 Hassan Ammar/AP
A prominent Lebanese politician named prime minister on Saturday after receiving vast support from parliament said he will work to end divisions in Lebanon and prevent the civil war in Syria from spilling over into the country.
Following two days of consultations, President Michel Suleiman asked Tammam Salam to form a new Cabinet. The 68-year-old Beirut legislator and former culture minister was chosen for the job by 124 members of the 128-seat parliament.
Salam faces the challenge of holding Lebanon together amid rising sectarian tensions resulting from the civil war next door in Syria. The country's two largest political blocs support opposite sides the fight between Syrian President Bashar Assad's forces and rebel fighters trying to oust him.
"I start from the necessity of taking Lebanon out of divisions and political tensions that were reflected in the security situation," Salam said in his first public statement after being chosen.
He added that his job also will be to prevent threats from the "neighboring catastrophic situation." Salam was trying to allay the fear in Lebanon that Syria's two-year civil war, which has killed more than 70,000 people, will spread to Lebanon.
---