New clashes erupt between Coptic Christians, Muslims in Cairo
Coptic Christians, Muslims, and Egyptian police fought in Cairo Sunday, following a Coptic Orthodox funeral. On Friday, in El Khusus, north of Cairo, Coptic Christians and Muslims shot at each other.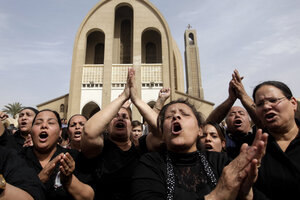 Amr Nabil/AP
Clashes broke out between Coptic Christians and Muslims in central Cairo on Sunday after the funeral of four Copts killed in sectarian violence outside the Egyptian capital on Friday night, a witness said.
The state news agency MENA said 17 people had been injured in fighting after a funeral ceremony at the city's Coptic Orthodox cathedral. Public television showed riot police firing tear gas to disperse the crowd.
In some of the worst sectarian violence for months on Friday, four Christians and one Muslim were killed in El Khusus, north of Cairo, when members of both communities started shooting at each other.
New clashes erupted on Sunday when hundreds of angry Copts who had attended a funeral service at St. Mark's Cathedral spilled out into the streets of Cairo, chanting "With our blood and soul we will sacrifice ourselves for the cross".
After an emotional church service, where relatives of the dead wept, young Christians started hurling rocks at police officers, a witness said.
The protesters smashed six private cars and set two on fire, prompting an angry reaction from Muslims living in the neighbourhood, who threw stones at them, a witness said.
---