Syrian army launches counteroffensive, calls on rebels to lay down arms
The Syrian army targeted rebels with heavy airstrikes in at least seven cities and regions Sunday, killing at least 20 people. The government also called on rebel fighters to surrender their weapons.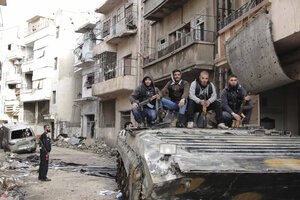 Mohamed Ibrahim/Shaam News/AP
After weeks of rebel gains in the south, the Syrian regime launched a counteroffensive on Sunday with widespread airstrikes and an operation that reclaimed a northern village on a strategically important route.
At least 20 people were killed in heavy airstrikes that targeted rebels trying to topple the regime in at least seven cities and regions. To underline their resolve, the government called on opposition fighters to surrender their arms and warned in cellphone text messages that the army is "coming to get you."
State television said the aim of the counteroffensive was to send a message to the opposition and its Western backers that President Bashar Assad's troops are capable and willing to battle increasingly better armed rebels on multiple fronts.
Rebels have been making gains in recent weeks, especially in the south near the border with Jordan. They have seized military bases and towns in the strategically important region between Damascus and the Jordanian border about 100 miles away.
However in the north, the main rebel stronghold, government troops have been chipping away slowly over the past weeks at rebel gains around the city of Aleppo, the country's main commercial hub. They have been hammering rebel-held districts inside the city with fighter jets and artillery, sowing fear among residents.
Troops recaptured on Saturday the village of Aziza on a strategic road that links Aleppo with its airport and military bases, activists said. Rebels have been trying to capture that airport and the nearby bases for months now.
---