Judge orders Musharraf held for 14 days before next hearing
Following former Pakistani military ruler Pervez Musharraf's return to Pakistan this week after four years of self-imposed exile and his subsequent arrest, on Saturday a judge effectively place Musharraf under house arrest for two weeks.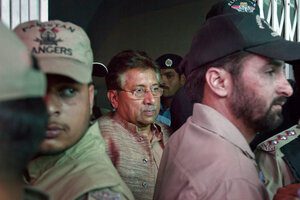 Anjum Naveed/AP
A Pakistani judge on Saturday ordered former military ruler Pervez Musharraf be held in custody for two weeks until the next hearing in a case related to his 2007 decision to sack and detain several judges.
The police then declared Musharraf's lavish country residence a jail, paving way for him to be taken and held there under what is essentially house arrest.
The development is the latest act in the drama surrounding Musharraf that erupted earlier this week and climaxed with his arrest Friday after a speedy escape from another court hearing.
The former general, who seized power in a coup and ruled Pakistan for nearly a decade, has seen his fortunes plummet since he returned in March after four years in self-imposed exile.
The arrest of such a prominent military figure in a country that has experienced three coups has unsettled Pakistan at a time when it is preparing for historic elections on May 11.
Saturday's order came at a hearing in an Islamabad court, where Musharraf was brought under heavy security as supporters and opponents gathered outside the court.
The judge ruled that he would be given judicial remand, which means that he would be held in custody until the next hearing on May 4. Musharraf's legal team had been pushing to get his estate on the edge of Islamabad declared a sub-jail under Pakistani law.
The Islamabad chief commissioner later issued a notification declaring the residence a jail, said police official Mohammed Khalid. Musharraf, who was taken from the court back to the police guesthouse where he had spent the night, was to be transported later Saturday to his private house in the country to remain there under house arrest.
---