London marathon message: 'Runners are stronger than bombers'
On Sunday the mood at the London marathon was festive, as many runners paid tribute to the victims of the Boston Marathon bombings.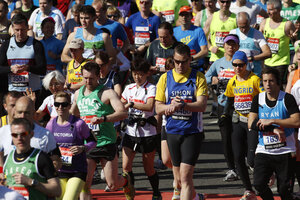 Sang Tan/AP
A defiant, festive mood prevailed Sunday at the London Marathon despite concerns raised by the bomb attacks on the Boston Marathon six days ago.
Thousands of runners offered tributes to those killed and injured in Boston on a glorious spring day in London. The race began after a moment of silence for the victims in Boston, and many here wore black armbands as a sign of solidarity.
"It means that runners are stronger than bombers," said Valerie Bloomfield, a 40-year-old participant from France.
London's is the first major international marathon since the double-bomb attack near the finish line in Boston, which left three people dead and more than 180 injured, including many who are still hospitalized. In addition, a policeman was killed during the search for the two suspected bombers. One suspect was killed during a shootout with police, while a second has been arrested.
Some 36,000 runners were expected to take part in the London race, which also draws tens of thousands of spectators. Police said they planned to add 40 percent more officers and extra surveillance as a precautionary measure.
Most runners in London said they weren't worried by the Boston bombings, and the impressive turnout of enthusiastic fans lining the routes showed the same spirit.
Stuart Calderwood, an editor with a New York running magazine who has run in eight Boston Marathons, said the carnage there had made him and his friends more determined to run in London.
---