Pakistanis vote in historic election even as violence looms
The vote will be the first in Pakistan's history from one elected government at the end of its term to another.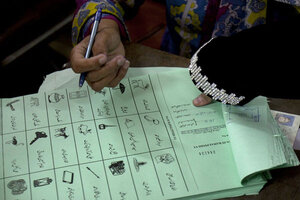 B.K. Bangash/AP
Defying threats of violence, Pakistanis streamed to the polls Saturday for a historic vote pitting a former cricket star against a two-time prime minister and an unpopular incumbent. But militant attacks that killed 20 people underlined the risks many people took just casting their ballots.
The violence was a continuation of what has been a bloody election season, with more than 130 people killed in bombings and shootings. Some are calling this one of the deadliest votes in the country's history.
Despite the violence, many see the election — the country's first transition between an elected government fulfilling its term to another — as a key step to solidify civilian rule in a country that has experienced three military coups.
With the Pakistani Taliban threatening to target political parties in the vote, the government deployed an estimated 600,000 security personnel across the country to protect polling sites and voters.
Many Pakistanis seemed determined to cast their ballots despite the violence.
"Yes, there are fears. But what should we do?" said Ali Khan, who was waiting to vote in the northwestern city of Peshawar, where one of the blasts took place Saturday. "Either we sit in our house and let the terrorism go on, or we come out of our homes, cast our vote, and bring in a government that can solve this problem of terrorism."
That exuberance seemed to be widespread. The secretary of the election commission, Ahmed Khan, told reporters in Islamabad that he expected the turnout to be "massive."
The election is being watched closely by the United States, which relies on the nuclear-armed country for help fighting Islamic militants and negotiating an end to the war in neighboring Afghanistan.
---