Yara Abbas, a TV correspondent, killed in Syria
Yara Abbas: A TV correspondent for a news channel loyal to Syria's President Assad was killed Monday near Qusair. Yara Abbas was well-known in Syria.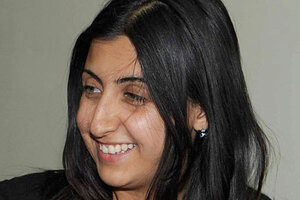 SANA/Handout via Reuters
Syrian troops gained ground Monday in a nine-day offensive against a key rebel-held town, and a Syrian TV correspondent covering the fighting there was killed by gunfire, state media and a pro-opposition group reported.
The Syrian reporter killed Monday, Yara Abbas, had been covering the fighting near the town of Qusair, near the border with Lebanon.
Abbas, who worked for state-owned Al-Ikhbariyah TV, was attacked by rebels who ambushed the car carrying her and her crew near the Dabaa base close to Qusair, the Syrian Information Ministry said in a statement carried by state TV. A cameraman and his assistant were wounded, the report said.
Dozens of journalists have been killed, wounded or kidnapped since Syria's crisis began. Amnesty International said this month that Syria's government and some rebels are deliberately targeting journalists.
Syria's state-run Al-Thawra daily reported last week that nine journalists and 23 other crew members working for state-run media have been killed in the country over the past two years.
Several foreign reporters also have lost their lives covering the conflict, including award-winning French TV reporter Gilles Jacquier, photographer Remi Ochlik and Britain's Sunday Times correspondent Marie Colvin. Also, Anthony Shadid, a correspondent for The New York Times, died after an apparent asthma attack while on assignment in Syria.
The fighting raged Monday as European Union foreign ministers met in Brussels to try to bridge divisions over easing an arms embargo, a step that would allow weapons shipments to rebels fighting Syrian President Bashar Assad.
In Paris, U.S. Secretary of State John Kerry and Russian Foreign Minister Sergey Lavrov exchanged updates on their efforts to launch Syrian peace talks at an international conference in Geneva next month.
---