Bikini ban at Miss World pageant. Why?
Bikini ban? The Miss World pageant says no bikini contest this year. The ban comes amid hard-liner Islamic protests. Contestants must wear traditional Bali sarongs, instead.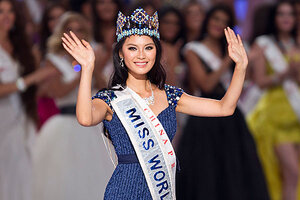 (AP Photo/Andy Wong, file)
Miss World has axed the famed bikinis from this year's pageant in Indonesia, replacing the skimpy swimsuits with conservative beach sarongs amid mounting protests from hard-line Muslim groups, organizers said Thursday.
All of the more than 130 contestants will be required to wear Bali's traditional long sarongs instead of the sexy bikinis that are historically part of the competition, said Adjie S. Soeratmadjie of the RCTI, the official broadcaster and local organizer.
Parts of the pageant will take place on the resort island of Bali and the final round will be held Sept. 28 near the capital, Jakarta. Indonesia is the world's most populous Muslim country.
"There will no bikini in this year's Miss World pageant to respect our traditional customs and values," Soeratmadjie said, adding that the London-based Miss World Organization is on board with the decision.
"This is a sensitive issue in Indonesia. We have discussed it since last year and they have agreed," he said.
The chairwoman of the Miss World Organization, Julia Morley, confirmed that none of the 137 contestants would wear a bikini.
"Indonesia is designing for us a very beautiful one-piece beachwear, and I'm very happy with them," she told The Associated Press by phone from London, adding that the pageant will include a special beachwear fashion show.
---