Violent crackdown follows Erdogan's speech
Riot police advanced on protesters in Istanbul's Taksim Square shortly after Prime Minister Erdogan warned the peaceful demonstrators to clear out or be forcibly removed.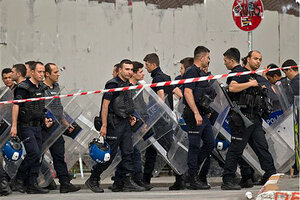 Vadim Ghirda / AP
Riot police fired water cannons and tear gas on protesters in Istanbul's Taksim Square and neighboring Gezi Park on Saturday, an intervention that came shortly after the prime minister warned that security forces "know how to clear" the area.
Protesters had defied Recep Tayyip Erdogan's earlier warnings to leave, vowing to press on with a sit-in that has galvanized demonstrations around the country and dented Erdogan's international reputation.
Saturday's sweep marked the first time in weeks that police had entered the makeshift tent city in Gezi Park, which has been transformed into a national symbol of resistance. White smoke billowed skyward as a phalanx of white-helmeted riot police marched inside the park. They tore down protesters' banners, toppled a communal food stall, and sprayed tear gas over the tents — urging those inside to pull out.
Protesters carried someone away on a stretcher.
According to NTV television, police shouted to the protesters: "This is an illegal act, this is our last warning to you: Evacuate."
In a show of power before thousands of flag-waving party faithful, Erdogan had earlier threatened protesters in a boisterous speech in Sincan, a suburb of the capital Ankara, that is a stronghold of his Justice and Development Party.
Erdogan warned protesters to cheers from the crowd: "I say this very clearly: either Taksim Square is cleared, or the security forces of this country will know how to clear it."
---