Snowden stuck in Moscow: Public support falls
Former NSA contractor Edward Snowden flew to Moscow from Hong Kong on Sunday. His ongoing presence in a Moscow airport may test the relationship between the United States and Russia. He faces U.S. charges of espionage for leaking secret government surveillance details.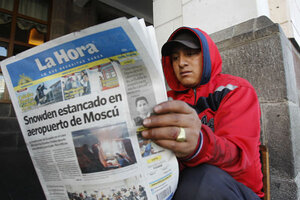 AP Photo/Dolores Ochoa
A former U.S. spy agency contractor facing charges of espionage remained in hiding at a Moscow airport on Wednesday while the prospect grew of a protracted wrangle over his fate.
Ecuador, where Edward Snowden has requested asylum, said a decision could take months and asked Washington to argue its case for extradition. Russia said Snowden, whose flight is proving a growing embarrassment for President Barack Obama, was still in the transit area of Sheremetyevo airport.
A leading U.S. senator sought to raise pressure on Ecuador by saying he would seek to end preferential access for its goods to the United States if it gave asylum to Snowden, while Quito denied it had given him any travel document.
Snowden fled the United States to Hong Kong this month after leaking details of secret U.S. government surveillance programmes, then flew on to Moscow on Sunday.
He has not been seen in the transit area - the zone between the departure gate and formal entry into the country - since his arrival, although a receptionist at a hotel in the transit zone said he looked at the prices there on Sunday, then left.
---