Orangutan remark: Politician under fire for racist slur
Orangutan remark: Roberto Calderoli remarked at an anti-immigrant rally that Cecile Kyenge, a Congolese-born Cabinet minister, resembles an orangutan, prompting huge outcry.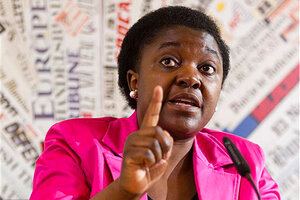 Domenico Stinellis/AP/File
Calls mounted Monday for the Senate vice president to resign after he compared Italy's first black Cabinet minister to an orangutan, with the Italian premier lamenting that the country had been "shamed" by such insults and demanding they stop immediately.
"When I see images of Kyenge I cannot help think, even if I don't say that she is one, of a resemblance to an orangutan," Corriere della Sera newspaper quoted Roberto Calderoli as saying.
Calderoli, a leader of the anti-immigrant Northern League, has insisted he was only joking when he made the comment at a League rally last weekend. He told the Corriere della Sera newspaper on Monday that he compares all his colleagues to animals and that what he says at a political rally shouldn't have any bearing on his work as the Senate No. 2.
Cecile Kyenge, a Congolese-born eye doctor, has been insulted with racist slurs from the Northern League ever since she was named integration minister in April. One Northern League politician has called her a Congolese "monkey," while another has said she deserved to be raped.
Kyenge responded to Calderoli's latest insult by saying it's not for her to demand his resignation but for Italians to reflect on the merits of public office-holders.
"We have to use messages that don't instigate violence," the ANSA news agency quoted Kyenge as telling a rally in Pescara. "Surely it's not my job to respond to violence with violence."
---