Ex-Vatican bank officials allowed money laundering, say prosecutors
Prosecutors suspect two former Vatican bank executives of laundering money, based on incomplete data on bank transfers that prosecutors say violated money laundering laws.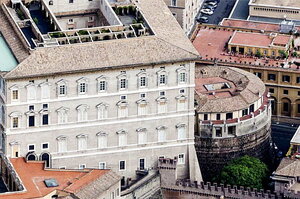 Stringer/Reuters/File
Prosecutors allege two former top executives at the Vatican bank repeatedly broke Italian laws on money laundering by failing to give sufficient information when ordering multi-million-euro bank transfers, according to judicial documents seen by Reuters.
While the prosecutors stopped short of accusing two men who were until recently the top officials at the Vatican bank of money laundering, they said confusion over the handling of IOR accounts had created the conditions where it could take place.
Key details missing on requested transfers included the identity of the owners of the funds and the reason for transfer.
The Institute for Works of Religion (IOR), as the Vatican bank is formally known, has long been in the spotlight for failing to meet international standards intended to combat tax evasion and the disguising of illegal sources of income.
A report by European watchdog Moneyval last year said the Vatican state, despite some progress, failed to meet some critical financial transparency standards.
The allegations by prosecutors in Rome investigating possible breaches of the rules, which have not yet been made public, are the latest blow to the Vatican bank, which has been under pressure since Italy's central bank ordered Italian banks to enforce strict transparency criteria when dealing with it.
---