Pope urges Catholic Church to engage as he wraps up South American visit
Pope Francis told bishops to leave their churches and go out into society in an address on Saturday in Brazil.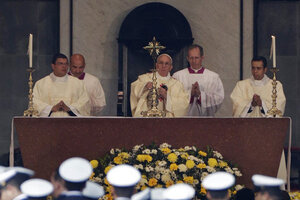 Ricardo Moraes/Reuters
Pope Francis took his message to shake up the Catholic Church to bishops from around the world on Saturday, challenging them to get out of their churches and go to the farthest margins of society to find the faithful and preach. In a separate appearance, he donned a feathered headdress as he embraced members of Brazil's indigenous tribes and was swarmed by junior ballerinas eager for a kiss on the head.
During a Mass with 1,000 bishops in Rio's beehive-like modern cathedral, Francis echoed the message he has delivered to pilgrims at World Youth Day all week: A radical call to renew the dusty church, which has seen its numbers dwindle in Europe thanks to general apathy and in Latin America in the face of competition from charismatic evangelical congregations.
"We cannot keep ourselves shut up in parishes, in our communities when so many people are waiting for the Gospel!" Francis said in his homily. "It's not enough simply to open the door in welcome, but we must go out through that door to seek and meet the people."
It was a slightly more diplomatic expression of the direct, off-the-cuff exhortation he delivered to young Argentine pilgrims on Thursday. In those remarks, he urged the youngsters to make a "mess" in their dioceses and shake things up, even at the expense of confrontation with their bishops and priests.
Francis himself is imposing a shake-up in the Vatican's staid and dysfunctional bureaucracy, setting in motion a reform plan and investigations into misdeeds at the scandal-plagued Vatican bank and other administrative offices.
Francis' target audience is the poor and the marginalized — the people that history's first pope from Latin America has highlighted on this first trip of his pontificate. He has visited one of Rio's most violent slum areas, met with juvenile offenders and drug addicts and welcomed in a place of honor 35 trash recyclers from his native Argentina.
---