Pink Panther jewel thief escapes from Swiss prison
Pink Panther: Milan Poparic, a Bosian member of the Pink Panther gang, escaped from a Swiss prison. He is the third member of the Pink Panther jewel thief ring to escape in recent months.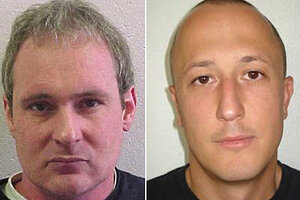 AP Photo/Police Vaud
A member of the notorious "Pink Panther" jewel thief gang escaped from a Swiss prison after accomplices rammed a gate and overpowered guards with bursts from their AK-47s, police said Friday.
Milan Poparic, 34, fled with fellow inmate Adrian Albrecht, 52, from the Orbe prison in the western canton (state) of Vaud late Thursday, according to a police statement.
He is the third member of the Pink Panthers to escape from a Swiss prison in as many months, according to Vaud police.
Poparic, a Bosnian national, had been serving a sentence of six years and eight months for robbing a jewelry store in the Swiss city of Neuchatel in 2009. Albrecht was serving a seven-year prison sentence for various crimes including robbery, arson and money laundering.
Police said Poparic was part of the Pink Panthers network, prime suspects in a series of spectacular thefts. According to Interpol the group has targeted luxury watch and jewelry stores in Europe, the Middle East, Asia and the United States, netting over 330 million euros ($436 million) since 1999.
The two accomplices rammed the compound with two vehicles, clearing away barbed wire for the escape, then fled with the two escapees in one vehicle and set fire to the other. Teams of police and other authorities from Switzerland and France, some using police dogs, are searching for them.
At a news conference Friday, Beatrice Metraux, head of Vaud's interior department that includes responsibility for prisons, said the guards were unarmed but were backed up by officers from the Swiss private security firm Protectas, who were equipped with "simple handguns" that were no match for the AK-47s.
She said the escapees hadn't received any visits in recent months other than from their lawyers.
---