Queen's WWIII speech prepares for 'horrors of war'
Queen's WWIII speech, scripted but never given, was prepared when tension between the USSR and the US rose to the point that nuclear war seemed likely.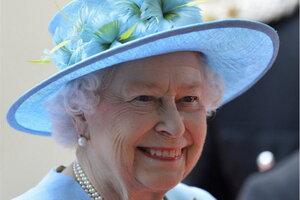 Toby Melville/Reuters
Relations between the Soviet Union and the West had become so tense 30 years ago that British officials drew up a speech for Queen Elizabeth to deliver to the nation in the event of a nuclear WWIII, newly released archives showed on Thursday.
In the speech, the monarch was to urge Britons to remain united and resolute in the face of the "madness of war."
Written by government officials, the hypothetical speech was part of a secret exercise designed to prepare Britain for the threat of a possible World War Three, but was never broadcast.
It starts by referring to the queen's traditional Christmas address to the nation.
"The horrors of war could not have seemed more remote as my family and I shared our Christmas joy with the growing family of the Commonwealth," she was to have said.
"Now, this madness of war is once more spreading through the world and our brave country must again prepare itself to survive against great odds."
The queen's speech was imagined to be broadcast in the spring of 1983 against the backdrop of worsening US-Soviet relations, during a year in which then-President Ronald Reagan described the Soviet Union as an "evil empire".
---