Koreas will hold talks on reuniting families separated by war
North Korea has agreed to a proposal by South Korea and the Red Cross to discuss resuming a family reunion program halted in 2010. North Korea also proposed talks on resuming joint tours of Diamond Mountain, which were a source of revenue for the isolated country.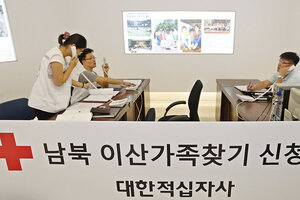 Han Jong-chan/Yonhap/AP
North Korea on Sunday accepted a South Korean offer for talks on reuniting families separated by war, but proposed separate talks on resuming lucrative tours to a scenic North Korean mountain in an apparent effort to link the two discussions.
Last week, the two Koreas agreed to work toward a resumption of a jointly run factory park in North Korea, raising hopes for improved ties between the rivals. Seoul subsequently proposed Red Cross talks Friday on restarting the reunions.
On Sunday, an unidentified spokesman at Pyongyang's Committee for the Peaceful Reunification of Korea said the North had agreed on the Red Cross talks. He proposed meeting at the country's scenic Diamond Mountain, not at the southern side of the border village of Panmunjom as South Korea requested.
The spokesman said via state media that North Korea also wants another set of talks Thursday on tours of Diamond Mountain, a day ahead of the proposed Red Cross meeting.
---